Welcome to ICIS 2016!
Welcome to the website of the 2016 International Conference on Information Systems (ICIS 2016), to be held in Dublin, Ireland from December 11-14, 2016.
ICIS is the major annual meeting of the Association for Information Systems (AIS), which has over 4,000 members representing universities in over 95 countries worldwide. It is the most prestigious gathering of academics and practitioners in the IS discipline, and provides a forum for networking and sharing of latest ideas and highest calibre scientific work amongst the IS profession. Each year, over 1,000 IS academic professionals from around the world participate in the conference program, which includes about 60 sessions and 180 presentations, in addition to keynotes and panels. The theme of ICIS 2016 is Digital Innovation at the Crossroads.
Dublin is described by Lonely Planet as
"oozing personality, a city whose soul and sociability makes it the most charismatic of capitals...a contender for greatest city in Europe. Garrulous, amiable and witty, Dubliners at their ease are the greatest hosts of all."
The city c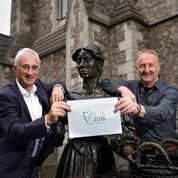 entre is quite compact, offers an excellent array of restaurants, bars, and entertainment, is steeped in history and culture, and presents a range of interesting attractions and activities to be explored on foot or by public transport. The ICT sector is very strong in Ireland with significant presences of a 'who's who' of major companies including Intel, Microsoft, IBM, Oracle, SAP, Symantec, McAfee, HP, Fujitsu, Accenture, Electronic Arts, Google, Facebook, LinkedIn.
We look forward to seeing you at ICIS 2016 in Dublin!
-- Brian and John