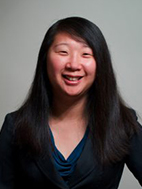 Jessica Pye 
Arizona State University

The doctoral student corner is a dedicated space for doctoral students attending the conference to orient to the ICIS experience and to connect with others in the field. This space will be available throughout the conference as a place for doctoral students to network and relax between conference events.
BR
We encourage doctoral students of all levels to register for this free ancillary event when registering for ICIS 2017.
BR
If you have already registered for the conference, but forgot to include the Doctoral Corner ancillary event, you are still welcome to participate. Please drop Jessica Pye an email with your interest so we can include you on any pre-conference emails.
Be sure to stop by the corner once you're in Seoul!
All students are free to relax in the designated doctoral corner space through-out the conference. There are also three activities students may participate in:
Networking events with faculty and fellow students during conference refreshment breaks
Trivia Bingo and Scavenger Hunt with Prizes
Buddy System Program and Selfie Challenge
BR
Students interested in the "buddy-system" program should respond to a survey request emailed to registered students a week or two before the conference starts. Each survey responder will be assigned two student buddies in advance. These buddy groups, made up of fellow doctoral students, are designed to help seed additional networking connections and provide new associates to get to know during conference receptions and meals. This year we will be offering a chance for a prize to those buddy groups who take selfies at the doctoral student corner and tweet at the AIS Twitter account (@AISConnect).  Once you sign up for the buddy system, look for our instructions on how to tag yourselves in the buddy assignment emails.
Sunday
Kick-off
Drop by during the doctoral student corner kick-off and get information about our activities planned for the conference. If you're participating in the buddy-system, this is a great place to arrange to meet your buddies. Catch up with old friends and make some new ones before heading out to the conference welcome reception. Snacks and beverages provided for as long as they last.
BR
Monday
Meet and Greet – Start off ICIS 2017 with a Bingo! 

          Morning Break
Stop by during your break and meet other students, fill out your scavenger hunt cards, and take your selfies! We will also be holding Trivia Bingo with the chance of winning prizes! Past prizes have included Kindles and gift cards!
BR
Talking Effectively about Your Teaching & Research

          

Afternoon Break
Stop by during your break and participate in some round table discussions or meet other students and fill out your scavenger hunt cards. The suggested round table topic of this break is how the job application and interview process works when applying to academic positions, as well as what institutions look for in a candidate. Various faculty will be around to contribute to the discussion.
BR
Tuesday
The Job Application and Interview Process

            

Morning Break
Submissions to ICIS 2017 must be original; submissions cannot have been published or accepted in a journal or conference proceedings, nor presented at another conference. Further, submissions must not be concurrently under consideration for publication or presentation elsewhere. If your paper has previously been published as a working paper or a pre-print, you will be asked to describe this as part of the submission process.
BR
Closing Remarks and Prize Drawing

      

Afternoon Break
As the doctoral student corner draws to a close, we invite everyone to stop by for the closing remarks. Make sure to get your completed scavenger cards in, as well as your pics of you and your buddy at the Doctoral Student Corner, as we'll do the big drawing for our prizes!!