Welcome! We are looking forward to seeing you in San Diego this summer!
At AMCIS 2016 you will have the opprtunity to meet like minded professionals from across the world and exchange information and insights, discuss research opportunities and learn about the research of others.
Event Basics
Venue
Our 2016 event will be held at the San Diego Sheraton Hotel and Marina. Click here fore more information on the hotel or to make a reservation.
Language
Sessions at the event are conducted in English.
Weather
In August, San Deigo has average highs of 78°F (25°C) and average lows of 67°F (19°C). Prior to traveling to San Diego for the meeting, you may wish to check the San Diego 10-day weather forecast.
Attire
Attire at AMCIS 2016 is business casual. Since meeting room temperatures and personal comfort ranges may vary, a light sweater or jacket is recommended.
Travel Discounts & Hotel Accomodations
You will need to book a hotel room with the Sheraton. A negoitated rate has been established for the conference. To book a room with the AIS room rate click here.
San Diego Highlights
Located on the west coast of the United States, San Deigo attracts visitors from all over the world to enjoy its mild weather, sunny beaches, acclaimed restaurants, shopping, nightlife, and much, much more. For more information on what San Diego has to offer click here.
Exchange Rate
Help plan your trip by checking the current exchange rate of your currency to U.S. dollars.
Tipping
Tipping in the United States is customary. A 15% to 20% tip is usually expected in restaurants, taxis, and for services you receive.
Etiquette
Become familiar with American etiquette for private, public, and business interactions.
Time
San Deigo is in the Pacific Time Zone. The Pacific Time Zone is -7h UTC/GMT.
Business Hours
Standard business hours are 8:00 a.m. to 5:00 p.m., Monday through Friday.
Electricity
Voltage 120, frequency 60 Hz. Adaptors that may be required are two flat blades or two flat blades with a round grounding pin.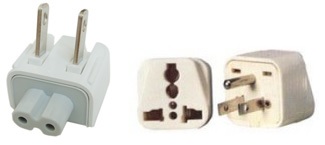 Telephone
U.S. country code: +1
San Deigo area codes: (619) or (858)
U.S. telephone numbers have ten digits total, which includes the area code and a seven digit phone number (e.g., 619.555.1234)
To make a call, dial "1," then the area code, and then the seven-digit number
To call internationally from San Deigo, dial "011," then the country code, then the area code, and then the number
Internet
Most hotels offer high-speed Internet connections.
Emergencies
Dial 911 from most phones. Some hotel phones may require an additional number. Please see the phone or hotel for specific instructions.
Visas
To help you with your travel arrangements, below are links to important information regarding visa invitation letters, visas, and other resources.
Visa Invitation Letters
Once the AMCIS registration form opens you may complete your conference registration, and then complete the Invitation Letter Request Form. After completing both, please email the completed request form to the AIS Registrar at registrar@aisnet.org or fax to +1 (404) 240-0998.
Please Note: Prior to receiving a letter of invitation you will need to complete and pay for your conference registration. As Visa requests can take several weeks, registrants are strongly encouraged to apply for the Letter of Invitation no later than two months prior to the conference.
Visa Information
The U.S. government requires residents of many countries to obtain a temporary visa before entering the United States. Recent changes to the visa application process may have increased the length of time required to receive your visa. It is very important to apply for a visa at least 90 days prior to departure. For information on U.S. visa policies and procedures, visit  https://travel.state.gov/content/visas/en.html .
Visa Waiver Program
The Visa Waiver Program (VWP) enables citizens of 38 countries to travel to the United States for tourism or business for 90 days or less without obtaining a visa.
In order to travel without a visa on the VWP, you must have authorization through the Electronic System for Travel Authorization (ESTA) prior to boarding an approved U.S. bound air or sea carrier. ESTA is the Department of Homeland Security (DHS), Customs and Border Protection's (CBP) automated web-based system to determine eligibility to travel without a visa to the United States for tourism or business. VWP travels must also have the correct type of passport.
To obtain a complete list of exempt countries and learn more, visit the Visa Waiver Program website at https://travel.state.gov/content/visas/en/visit/visa-waiver-program.html .