Conference Theme Track: Transforming Society with Digital Innovation
Rick Watson
University of Georgia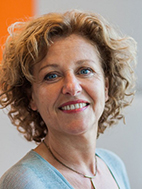 Marleen Huysman
VU University Amsterdam
Wonseok Oh
Korea Advanced Institute of Science and Technology (KAIST)
Nearly every country seeks to have a creative economy, because innovative products and services command the consumer's attention. Furthermore, the B2B market also seeks novel products and services in in order to improve its efficiency and effectiveness. Ricardo's law of comparative advantage is no longer solely based on natural advantage (e.g., gold mines), because a creative country (e.g., Singapore) can exploit digital technology and human skills to establish a comparative advantage.
Digital technology is generally seen as the driver of innovation and prosperity, playing multiple roles in designing a creative economy. It can, for example, (1) be built into products and services to improve their usefulness, such as the phone that became smart (2) drive the development of range of autonomous and artificially intelligent products, such as driverless cars, (3) support a sharing economy where resource utilization is raised and customer service improved, and (4) accelerate the creative process through digital communication channels and tools, such as 3D printing, that enable rapid experimentation and product prototyping. Moreover, due to its generative nature, it can alter old business models for example by replacing by multi-party platform models and developing industry cross-overs, yielding radical changes of development and consumption patterns.
Countries can invoke policies that support the development of a creative economy, and many have tried to emulate Silicon Valley and other centers of innovation, but ultimately the creative products and services come from digitally-oriented companies. Many questions are raised by intended policies to promote this new economy, including how do countries and companies jointly design a creative environment, and how important is digital technology in stimulating creativity. The 2017 theme track welcomes all types of research papers that offer novel ideas and practical/actionable solutions for how digital technology can fashion a create economy.
We seek submissions associated broadly with designing the creative economy through digital technology. We invite papers utilizing a diverse range of research approaches, and welcome controversial and well-argued papers that challenge established positions. We seek new ways to transform our understanding of the role of digital technology in the creative economy.
Gabriele Piccoli, Louisiana State University
Saji Mathew, Indian Institute of Madras Technology Madras
Keri Larsen, Louisiana State University
Kevin Desouza, Arizona State University
Federico Pigni, Grenoble Ecole de Management
Ibrahim Al-Jabri, King Fahd University of Petroleum and Minerals
Stefan Haefliger, City University of London
Sabine Brunswicker, Purdue university
Hans Berends, Vrije Universiteit Amsterdam
Philipp Tuertscher, Vrije Universiteit Amsterdam
Andrea Carugati, Aarhus BSS
George Kuk, Nottingham Trent University
Juhee Kwon, City University of Hong Kong
Daegon Cho, KAIST College of Business
Shun Ye, George Mason University
Dobin yim, Fordham University
Jae Yun Moon, Korea University Business School
Wenqi Zhou, Duquensne University