Welcome

The AMCIS 2014 printed program guide has been finalized, and will be distributed on-site.  To peruse the guide beforehand, please click here (Printed AMCIS 2014 Program Guide).  Please note that we cannot make any edits to the guide at this time, but we are able to change information on the mobile app if any of the information must be amended.  Send all requests to This email address is being protected from spambots. You need JavaScript enabled to view it.. 



Learn more about the AMCIS 2014 Event App!

---
Savannah, Georgia, USA is the location for the 20th Americas Conference on Information Systems, Thursday, August 7 through Saturday, August 9, 2014.  AMCIS 2014 will be held at the Savannah International Trade & Convention Center which sits on the shores of the Savannah River and is connected to the Westin Savannah Harbor Golf Resort & Spa.  The Hyatt Regency Savannah is located just across the river along with other overflow hotels.  Complimentary water taxis are provided by Savannah Belle Ferry, which departs every 20-30 minutes during regular operating hours. However there will be increased service during the AMCIS Conference. View and download the Ferry Schedule  

What's in store for you at AMCIS 2014!?!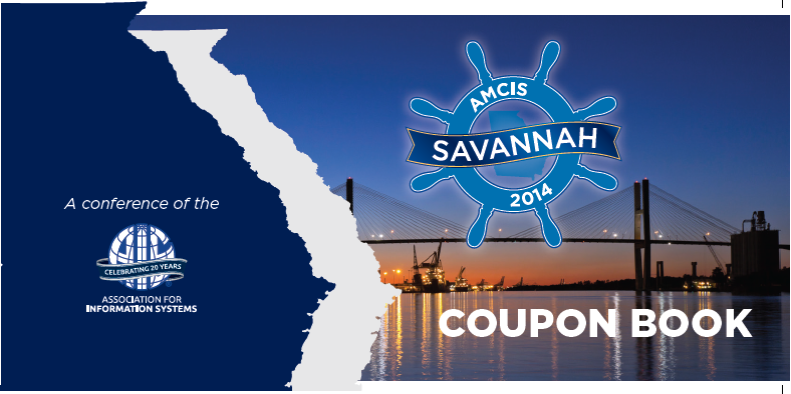 Discount Coupon Book
The AMCIS 2014 conference team is pleased to offer a coupon book for you to use while eating, drinking, touring, and shopping in the heart of Savannah! The coupon book, which is included in each attendee's registration packet, features: 3 drink coupons (may be used at the AMCIS 2014 Cocktail Hours and/or Welcome Reception), Discounted menu specials and more!
Welcome Reception
Thursday, 6:30-8:00 PM * Westin Harbor Lawn
This outdoor reception will feature a low country boil and a cash bar for you to enjoy before you head off to one of the many restaurants in Savannah for dinner and a night out (don't forget to grab your coupon book on your way!). 
Cocktail Hours
Friday & Saturday, 5:00-6:00 PM * Esplanade of the Convention Center
Grab your AMCIS 2014 coupon book, and head to the banks of the Savannah River for a cool beverage and networking. In place of the traditional social event, these Cocktail Hours enable you to end your day with a toast, and make dining and other plans with your colleagues.